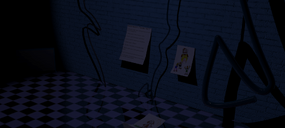 The Office Hallway, also known as CAM 08, is a location on Floor 1 in The Night Shift: Iggy's Funhouse within Iggy's Funhouse.
According to the camera map, the Office Hallway is connected to The Office and the Storage Closet.
Iggy 2.0 and Stingy can be seen in this camera.
Appearance
Edit
The Office Hallway is a big room with blue walls and wires hanging down it. There is a big paper on the wall that reads "Attention Parents!!!" with a list of rules. Occasionally, the list of rules can change into a drawing of Iggy 1.0 made by TwinklePhoenix. There's a few kid drawings of the animatronics, one on the wall and one on the black and white checkered floor. The kid drawing on the wall is a picture of Tambles with a few kids and the other drawing on the floor has a much earlier design of Iggy 2.0 which was never used in the demo. 
The texture for the drawing of Tambles is reused in The Office.
Ad blocker interference detected!
Wikia is a free-to-use site that makes money from advertising. We have a modified experience for viewers using ad blockers

Wikia is not accessible if you've made further modifications. Remove the custom ad blocker rule(s) and the page will load as expected.