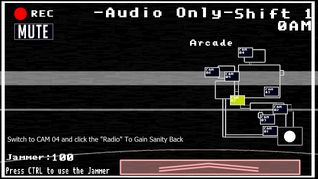 The Arcade, also known as CAM 07, is a location on Floor 1 in The Night Shift: Iggy's Funhouse within Iggy's Funhouse. The camera feed of the room is disabled.
The Arcade is the only area where the camera is disabled. The only feature available through the camera is audio. Currently, the player can't hear anything in this camera, but possibly in a new update the player will hear something in this camera.
It is unknown if any other animatronics will make noise in this camera.
Ad blocker interference detected!
Wikia is a free-to-use site that makes money from advertising. We have a modified experience for viewers using ad blockers

Wikia is not accessible if you've made further modifications. Remove the custom ad blocker rule(s) and the page will load as expected.